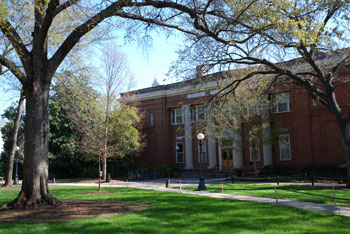 Philosophy seeks to answer fundamental questions about the nature of reality and our knowledge of it; about the sources of meaning and value in human life; and the relationship of human beings to each other, to the natural world, and to the built environment. Our department is pluralistic in outlook, representing analytic, continental, historical and non-western approaches to philosophy. Our faculty have national and international reputations in their research fields, and strive equally for excellence in teaching and mentoring students. 
Lectures & Programs
Interdisciplinary Programs
We participate in three interdisciplinary programs, including an Environmental Ethics certificate, and a certificate with the Institute for Women's Studies, as well as a M.S. with the Institute for Artificial Intelligence.
Attend one of our lectures
The Scott and Heather Kleiner Lecture Series brings academics from across the country to our campus.