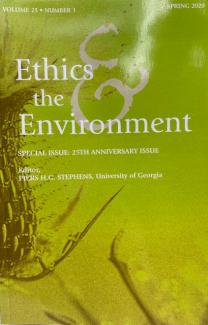 Ethics & the Environment celebrates 25 years of editorship at the University of Georgia Department of Philosophy. This biannual peer-review journal of environmental philosophy was founded in 1995 by UGA professor and ecofeminist scholar Victoria Davion and has steadily grown to international recognition as one of the premier journals in the field.  
Upon Davion's untimely passing in 2017, Associate Professor Piers H.G. Stephens assumed editorship. "Ethics & the Environment is today one of the top journals in environmental philosophy, still growing in its subscriptions and influence, and a living tribute to the quality of Vicky Davion's vision," says Stephens. "As editor, I am often astounded at the range, diversity and quality of the manuscript submissions we receive from a global audience," he continues.
Ethics & the Environment is considered groundbreaking in the field in that radical perspectives that were unrepresented or underrepresented in the other journals at the time of its founding—especially ecofeminism, deep ecology, indigenous, and non-Western thought—are central to its identity and mission, broadening the debate and providing an outlet for work from a diversity of forward-thinking scholars.
The 25th anniversary issue includes an introduction from Stephens and a reflection from Lori Gruen, renowned ecofeminist scholar and an original editorial board member of Ethics & the Environment, as well as an array of contributions reflecting the diversity and ingenuity of content that is the journal's forte—philosophical ethical analyses of canyon conservation, a reflection on the Anthropocene, endangered species relocation, and extraterrestrial wilderness.
Editor Stephens and managing editor Melissa Link look forward to the continued growth and success of the journal, which would not be possible without ongoing support from publisher Indiana University Press, UGA's Willson Center for Humanities & Arts, and the Franklin College of Arts & Sciences.