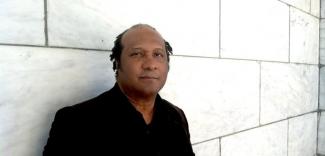 University of Connecticut Professor Lewis R. Gordon will speak on  "Four Kinds of Invisibility from Euromodernity" in 115 Peabody Hall on Friday, Oct. 12 at 3:30pm. Gordon is a Professor of Philosophy with affiliations in African studies, Judaic studies, Caribbean and Latinx studies, and Asian and Asian American studies. He presents at the invitation of the UGA Philosophy Graduate Student Association as part of the UGA Department of Philosophy's Scott & Heather Kleiner Lecture Series and with support from the Willson Center for Humanities & the Arts.
Lewis R. Gordon is an Afro-Jewish philosopher, political thinker, educator, and musician. A native of Jamaica who grew up in the Bronx, New York, he earned his PhD from Yale University. He currently serves as honorary president of The Global Center for Advanced Studies. Gordon's research in philosophy is in Africana philosophy, philosophy of existence, phenomenology, social and political philosophy, philosophy of culture, aesthetics, philosophy of education, and philosophy of science.
In addition to theories of social transformation, decolonization, and liberation, Gordon's work in social and political philosophy also addresses problems of normative political concerns beyond justice. This lecture will address how philosophers and social theorists talk about human invisibility. Gordon will explore how the equation of "modernity" with Europe renders other kinds of modernities invisible. He will address racial, indigenous, engendered, and epistemic invisibility/erasure in a talk that aspires to illuminate the understanding of how invisibility functions in our contemporary discussions of norms and politics.