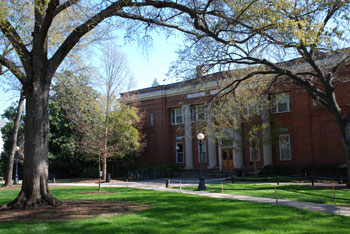 News: Department of Philosophy Announces Pre-Law Track
Undergraduate students who intend to pursue the study of law may want to consider majoring in Philosophy. Philosophy majors are highly trained in presenting arguments by manipulating language, a core ability required for the study of law. The study of philosophy requires analytical reasoning, logical reasoning, and reading comprehension—all skills which are evaluated by the LSAT, and philosophy majors have been shown to have the second-highest LSAT scores of all majors. 
Undergraduate majors in philosophy are currently required to do 24 hours of upper division philosophy classes, six of those credit hours must come from two required classes: PHIL 3000 (Classics of Ancient Western Philosophy) and PHIL 3010 (Classics of Modern Western Philosophy). That leaves six remaining courses (18 credits) from our upper division offerings. 
In consultation with UGA Law professors, the Department of Philosophy has put together the following list of upper division classes from which a pre-law student may wish to choose. Starred classes are especially recommended, and PHIL 4240 (Philosophy of Law) is double starred because of its significance. 
Note that these are merely recommendations. Completion of courses on this track will not result in recognition on your official transcript, and none of these courses are required for admission to law school. Not all classes will be available every year. Non-philosophy majors interested in a career in law may want to consider a minor in Law, Ethics, & Philosophy.
Recommended Upper Division Philosophy Classes
The nature and justification of fundamental ethical concepts and moral principles. 
Philosophical investigation and evaluation of feminist philosophy, examining such approaches as liberal feminism, socialist feminism, radical feminism, ecofeminism, and other feminist approaches. 
Ethical and philosophical issues that arise in the context of medicine and bioresearch. Many ethical issues arise in health care contexts. This course will introduce students to some important problems in this area, and will help them to develop a decision framework for their resolution. 
Basic problems and issues in the theory of knowledge, such as: What is truth? Can we acquire knowledge independently of experience? How can we justify our beliefs? Are inductive generalizations justified? 
The nature and function of society and the state, human freedom and rights, and the bases of social and political obligations. 
Major professional and nonprofessional writings in the field of environmental ethics. 
The nature and function of law, with emphasis on the interpretation and application of the law in the judicial process. Readings in classical and contemporary schools of the philosophy of law. 
Topics such as formal and ordinary languages, meaning, reference, truth, definition, analyticity, ambiguity, metaphor, symbolism, and the uses of language. 
An exploration of several topics related to philosophy and race: race and racism in the history of Western philosophy; contemporary and historical meanings and understandings of racial categorizations; challenges to white supremacist philosophical paradigms; and the significance of matters of race for philosophical investigations concerning identity, politics, ethics, and religion.